Teaching with Laurel Grove School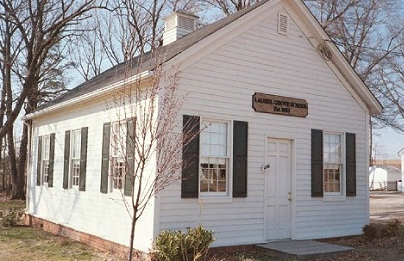 In the 1990s, northern Virginia's suburban sprawl might have destroyed three landmarks of an African-American community that had sprung to life after 1877, the end of Reconstruction: The Laurel Grove Colored School, Baptist Church, and Cemetery.  However, once real estate developers Mark and Barbara Fried began the title search on 23 acres of land near the Franconia Metro Station, they discovered that 13 of these acres had been in the Jasper-Walker family since 1860, and one building on the property had been a one-room school for local African American children.  Recognizing that this history was important, and wanting to uncover the story of the families and community whose children attended the school, the Fried Company restored the building and supported the initial historical research that followed.
Under the direction of the Laurel Grove School Association, and with several grants from the Virginia Foundation for the Humanities, an interdisciplinary team of community members, curriculum experts, teachers, historians, and museum curators recovered the history of this school from oral histories and local archives, and refurbished the classroom.  This team also crafted a fourth grade history curriculum to study the institution of slavery, the Civil War, Reconstruction, and life under a segregated "Jim Crow" system—a curriculum that later was adapted to middle and high school  curricula.
Often the history of slavery, emancipation, and freedom from slavery is obscured or marginalized by textbook generalizations. But the Laurel Grove School—a school established and sustained by real people whose lives touch ours—marked a manifestation of the actions of many Free Negroes after the Civil War. Because William Jasper and his community saw education as key for African-Americans to succeed, they founded a school that is still remembered as essential by surviving alumnae.  Today the school is a "living museum", a tribute to the families who refused to narrow their ambitions. Laurel Grove School lesson plans are available on our Web site: Teaching with Laurel Grove School http://chnm.gmu.edu/laurelgrove/ . For more information please contact Phyllis Walker Ford, Director and descendant of William Jasper, at contact@laurelgroveschool.org.